Partnership supporting elderly patients commended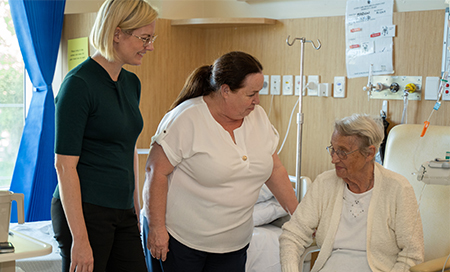 From left: Aged Care Transition and Liaison Nurses Hayley Yeo and Deb Jones consulting with an hospital patient
A collaborative nursing role that supports older people at risk of hospital readmission to manage their care across hospital, community and primary health settings has won the Excellence in Strengthening Partnerships Award at the South Metropolitan Health Service (SMHS) Excellence Awards (external site).
The winning Aged Care Transition and Liaison Nurse role is a collaboration between Rockingham General Hospital and the WA Primary Health Alliance (WAPHA).
Deb Jones, Clinical Nurse Specialist, Aged Care said the service demonstrates the important role nurses play in keeping people healthy across their lifespan.
"This nursing role works with older patients on discharge to communicate hospital developed treatment and management plans to primary health care providers including GPs, pharmacies and care services," Deb said.
"This interconnected system supports the care needs of older people as they transition from hospital to home."
Deb said the team were honoured to win the award and proud of the outcomes achieved.
"Providing individual patient centred education and advocacy, plus linking the patient back to primary care providers, has led to a five percent decrease in readmission rates for patients aged 80 years and older," Deb said.
"This intervention has also contributed to improved safe medication management in the community and reinforced chronic disease management education for older people."
SMHS Chief Executive Paul Forden said the service provided sustainable benefits for the older population at vulnerable transition points in their healthcare journey.
"Congratulations to all involved in this RGH and WAPHA collaboration who together are strengthening the health of our older population," Paul said.
The SMHS Excellence Awards celebrate high-achieving staff across Fiona Stanley, Fremantle, Rockingham General and Murray District hospitals who exemplify the SMHS core values of Care, Integrity, Respect, Excellence and Teamwork in their care and service each and every day.
See more 2021 SMHS Excellence Awards winners (external site).
Keep up to date with our news and achievements