Rockingham volunteer of 25 years honoured at SMHS Excellence Awards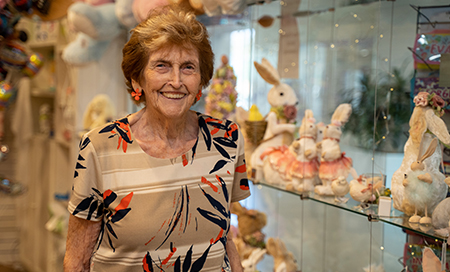 Rockingham General Hospital Auxiliary President and winner of the 2021 SMHS Volunteer of the Year award, Joan Salter.
For the past 25 years, the dedication of Rockingham General Hospital (RGH) volunteer Joan Salter has enriched the experiences of countless patients, carers, visitors and staff.
Joan's extraordinary service was recently acknowledged at the South Metropolitan Health Service (SMHS) Excellence Awards (external site) when she received the Volunteer of the Year Award, sponsored by Paywise.
Joan has been President of the RGH Auxiliary for the last decade. Her exceptional business and interpersonal skills, coupled with her integrity and compassion, have enabled her leadership of more than 200 volunteers and management of Elanora's Café and Gift Shop.
The Auxiliary reinvests profits from these retail outlets back into the hospital. Millions of dollars have been contributed to fund medical equipment, refurbish multiple patient and visitor areas, and fund medical and non-medical scholarships to support continuing staff education.
Additionally, Joan interviews volunteers, oversees their training and supports work experience opportunities for high school students, disabled youth and Centrelink recipients.
Joan has loved volunteering at RGH and describes the honour as a humbling experience.
"Winning this award acknowledges the ladies and gentlemen of the Auxiliary, both past and present, for their dedication and hard work over the last forty years," Joan said.
"Witnessing the growth that we have achieved over this time makes me extremely proud of them."
This award recognises an exceptional volunteer who has demonstrated dedication and commitment to making a difference in the lives of patients, carers, visitors and staff within SMHS.
Rockingham Peel Group Executive Director Kath Smith congratulated Joan on her well-deserved win.
"The entire hospital is so proud of Joan and fellow Volunteer of the Year finalist, President of the Friends of RGH, Anna Martin," Kath said.
"Joan and Anna are both wonderful women whose leadership of our outstanding volunteers provides an exceptional service to our patients, visitors and staff," Kath said.
The timing of the award, during National Volunteer Week (17–23 May 2021), is a fitting tribute to Joan and all volunteers across SMHS. The event celebrates the significant contribution of Australia's almost six million volunteers.
The SMHS Excellence Awards celebrate high-achieving staff across Fiona Stanley, Fremantle, Rockingham General and Murray District hospitals who exemplify the SMHS core values of Care, Integrity, Respect, Excellence and Teamwork in their care and service each and every day.
Read about volunteering at Rockingham Peel Group.
Keep up to date with our news and achievements