New murals brighten the paediatrics ward thanks to generous donation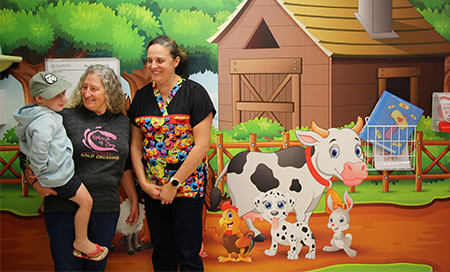 Ezekiel, Jodi and Nurse Unit Manager, Vicki Filby in front of one of four murals
Scenes featuring mermaids, farm animals, a shipwreck and animals flying airplanes have brightened the walls of the Rockingham General Hospital's (RGH) paediatric ward after the grandmother of a long-term patient donated funds from completing the Rottnest Channel Swim.
Jodi O'Connor was inspired to raise funds for the hospital in 2019 after her grandson Ezekiel became sick from the age of 5 months old and had to spend a lot of time at RGH.
Jodi had previously competed in the Rottnest Channel Swim several times but felt she had to do something for the hospital after her grandson's experience and the outstanding care he received.
"The nurses and doctors were such a huge help and always available so I thought I could make a difference by swimming, which is something I enjoy, but also fundraise to give back to the hospital," Jodi said.
After a successful solo swim, Jodi generously donated over $2,000 to the RGH paediatric ward and the funds have been put to good use with colourful murals now featured on the walls of four patient areas.
"The new murals are so cool, I hope they bring some joy to the kids and their families who are going through a tough time," Jodi said.
Paediatric nurse unit manager Vicki Filby said the paediatrics team are thrilled with the new murals.
"The reactions the kids have when they go in the rooms is fantastic and it is a great distraction for them", Vicki said.
"We can't thank Jodi enough for her generous donation."
Keep up to date with our news and achievements