Murray District Hospital palliative care lounge facelift thanks to donation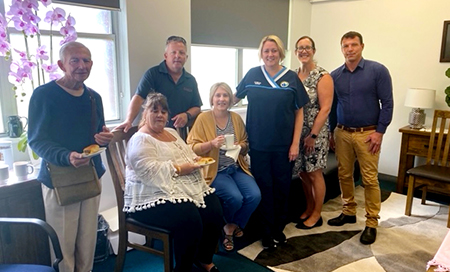 The Martley family, Natalie Coulson & Katie Bishop (previous acting NUM's of MDH)
The palliative care lounge for families of patients at Murray District Hospital (MDH) has been given a facelift thanks to a generous donation from Personnel Employed at Alcoa Charity Help (PEACH).
Alcoa employee Jamie Martley and his family spent time at MDH in palliative care with his older sister Lisa who passed away last year. Grateful for the care and compassion his family received, Jamie suggested to staff that they should apply for a PEACH grant to upgrade hospital facilities.
Alcoa past and present employees regularly donate to PEACH and the funds are injected back into the local community.
A generous donation was awarded to MDH through PEACH last year and the funds were spent on refurbishing the palliative care lounge, which is now open for use by families, friends and carers of palliative patients.
Rockingham Peel Group Medical Co-Director, Dr Helen Thomas, said the lounge has been decorated and new furniture purchased including a sofa bed so relatives and friends have the option to sleep overnight. A new bench has also been added to the gardens to enjoy the fresh air.
"The new lounge is more comfortable, warm and inviting for families of palliative patients," Helen said.
"We are incredibly grateful to PEACH for the donation and to Jamie for recommending this to us."
Jamie said he was thrilled with the upgrade when he attended the grand opening of the palliative care lounge on 21 May 2021.
"I am so glad that PEACH was able to help, it will make such a difference to so many people," Jamie said.
Keep up to date with our news and achievements