Artworks donated by mental health clients bring a splash of colour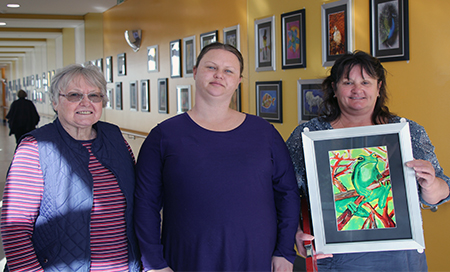 The completed artwork installation contains works from mental health unit patients who have attended art and photography programs.
The main corridor connecting Rockingham General Hospital (RGH) to the Mental Health Unit has never looked so good, thanks to the completion of the mental health artwork installation project with works donated by mental health clients.
The clients all attended art and photography programs at Rockingham Peel Group (RkPG) Specialist Rehabilitation Team (SRT) and Intensive Day Therapy Unit (IDTU).
The five programs run for 8–12 weeks and offer participants an opportunity to focus on creativity by developing their art and photography skills.
The installation has been a three-phase work-in-progress for the past two years, with this final phase initiated by mental health clients who wanted to fill the remaining space with colour.
Twenty-five new pieces of artwork have been added to the wall, bringing the total artwork donated to seventy-seven.
Community Mental Health Program Manager Stephen Batson said the people behind the artwork have experienced significant impacts on their lives as a result of mental health illness.
"Not only do people develop useful creative skills through these programs, but they are also supported in establishing social and therapeutic relationships and given a safe space to reflect on their journey," Steve said.
"They all have wonderful perspectives to share and much to offer others."
Steve hopes that people visiting the hospital will see beyond the diagnosis of its creators to enjoy the artwork and appreciate the talent of fellow community members.
Therapy Assistant Phil Turner lead the artwork installation and said what he notices most with people who progress through the programs is the improved concentration.
"You just hear the paint brushes – it's not magic but it's a distraction from issues at home and helps clears the mind," Phil said.
"Hopefully people then go and continue to do creative things at home on their own.&rdquo
Kate, Holly and Angie, who all donated artwork for the installation, said the programs gave them a sense of accomplishment and satisfaction.
"I can concentrate and focus," Kate said.
"It is amazing when you find a talent you never thought you had, I never thought I could paint," Angie said.
Kate and Holly have progressed to doing art at home.
Keep up to date with our news and achievements