Musculoskeletal Diversion Clinic diverts patients out of the emergency department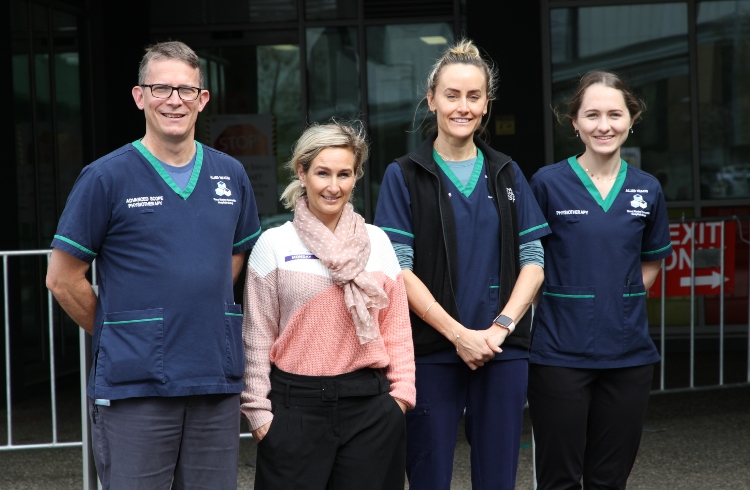 L to R: FSH Advanced Scope Physiotherapist Piers Truter, RGH Senior Physiotherapist Elise Jones, FSH Advanced Scope Physiotherapist Pippa Flanagan, FSH Senior Physiotherapist Lauren Bright.
The emergency department (ED) musculoskeletal diversion project is proving extremely successful for providing care outside of an emergency room.
A first of its kind in WA, more than 750 patients with uncomplicated musculoskeletal conditions have been diverted from the ED waiting room to outpatient clinics, where they are seen by advanced scope physiotherapists, who are experts in managing musculoskeletal conditions and injuries.
Project leads and SMHS Advanced Scope Physiotherapists, Piers Truter and Pippa Flanagan, say that the success of this project across SMHS EDs has clearly demonstrated that patients presenting to ED with simple musculoskeletal conditions can safely receive quality care outside the ED.
"The project was intended to reduce ED bed pressure, help our ED colleagues assess patients with more complex needs in a timely manner and improve flow for all patients seeking care," they said.
"So far it has been highly successful, with all diverted patients coming into our clinics meeting the target timeframes for being seen and admitted, transferred or discharged."
Piers and Pippa also explained the success of the clinics is attributable to the patient-centred approach, where the clinical process is personalised to address patients' individual concerns.
"Patients leave with an understanding of their condition, a health care plan and are given the opportunity to have a follow-up at a time and method that suits them," they elaborated.
"ED length of stay for these patients has been reduced by three hours and the satisfaction rating with the service is at 97 per cent."
An ED Musculoskeletal Diversion Clinic patient at Rockingham General Hospital had an excellent experience with the new clinic and was very grateful to receive the out-of-ED treatment.
"I can't thank you enough for looking after me today," they said.
"I really appreciate the team explaining everything and teaching me a bit more about my body. I couldn't be more thankful."
This initiative is an extension of the successful Virtual Fracture Clinic and has been developed in partnership between the Fiona Stanley Fremantle Hospital Group and Rockingham Peel Group physiotherapy departments, Kaartdijin Innovation team and the Department of Health's Emergency Department Innovation Fund (EDIF).
Keep up to date with our news and achievements