Rewarding mental health nursing opportunities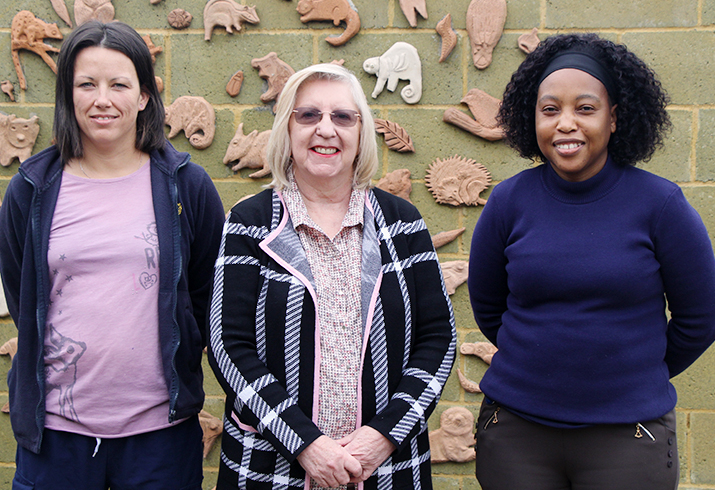 RkPG mental health nurses Christiane Curac, Sue Thistlethwaite and Eve Chiyangwa
Working as a nurse in mental health at Rockingham Peel Group (RkPG) provides many opportunities to make a positive impact on a person's life.
This could be in a hospital inpatient setting like Mimidi Park located at Rockingham General Hospital (RGH), or by travelling to see people in their own home with the newly established Mental Health Hospital in the Home (MH HiTH) service.
Delivering inpatient care at Mimidi Park
Program Manager for Mimidi Park Inpatient Unit and Nurse Lead for RkPG Mental Health, Sue Thistlethwaite, has been a mental health nurse for 43 years, eight years of which she has spent at Mimidi Park.
When asked to describe what working there is like, Sue said the facilities and surrounding made a big difference.
"It's modern and bright with lots of windows, nice court yards and excellent facilities including a gym.
"Combined with our multi-disciplinary team who are highly-skilled and love what they do, being able to create a positive experience for those in our care is something we pride ourselves on," Sue said.
"Most of the feedback we receive when people are discharged from the unit is really positive, and that is due to our caring and supportive team, dedicated to providing patient-centred care."
Sue said she is passionate about mental health care because she enjoys being able to see the positive difference that mental health care makes for people, their carers and families.
"What's interesting about being a mental health nurse is helping people to manage their mental health conditions so they can enjoy as normal of a life for them, as possible," Sue said.
Mimidi Park Inpatient Unit Registered Nurse Christiane Curac said she has always had a passion for mental health, having worked in aged care in Germany.
"I have worked with patients experiencing dementia so when I moved to Perth, I completed the South Metropolitan Health Service Mental Health Graduate Program in 2016 at Fremantle Hospital and worked within the older adult unit there for four years," Christiane said.
"I now work with a younger demographic at Mimidi Park and I really enjoy it, I have always had an interest in helping people with mental health conditions, it's rewarding to see them leave here, feeling much better about their future."
On working at Mimidi Park, Christiane said the team are friendly and open minded with many staff from different cultural backgrounds.
Delivering care in the home
Mimidi Park is also the base for MH HiTH, a service established in March 2021 which provides in-home daily mental health care for eligible consumers in the Peel and Rockingham (PaRK) Mental Health catchment area, from Kwinana to Waroona, who would otherwise need to be admitted to hospital.
The aim of this service is to help people maintain a normal routine and is for short term management of up to three weeks in duration.
MH HiTH Clinical Nurse Eve Chiyangwa said she thoroughly enjoys working in the community, getting to work with consumers in their own home environment.
"I find I get to know them better because they feel much more comfortable at home," Eve said.
"It's a great service we provide, I like to see the good we do in changing people's lives and offering support to people and their significant others so they can get back to being part of the community."
Eve previously worked in Melbourne before moving to Perth a year ago.
"Coming from a medical background into mental health, it was a total change, but it's been interesting as well," Eve said.
"I am finding I am getting to know Perth really well with the driving I do from Kwinana to Mandurah, it's really great and every day is different."
Eve also said there is great support at the home base with regular multi-disciplinary team meetings.
"We are very supportive of each other and seek advice where needed, it's honestly such a great place to work," Eve said.
RkPG has recruitment pools open for registered nurses (external site) at Mimidi Park Mental Health Inpatient Unit and clinical nurses (external site) in the MH HiTH team.
Registered or clinical nurse interested in working in, or switching to mental health, can learn more about South Metropolitan Health Service mental health nursing opportunities (external site) or complete an expression of interest form (external site).
Keep up to date with our news and achievements