Living in WA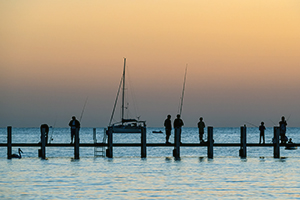 WA offers one of the best lifestyles in the world, with its sunshine, endless blue skies, white sandy beaches and easy-going lifestyle.
With many migrants attracted to living and working in this beautiful state, WA is a diverse, inclusive and modern society. Moving to WA can be a great choice for you and your family. It can also help your career. Our beautiful state is complemented by a first-class integrated health system that provides opportunities to work across diverse clinical specialities in cosmopolitan cities or rural communities.
WA has something on offer for everyone, whether you are looking for vibrant cafe and restaurant scenes and shopping districts, or wide open spaces and spectacular scenery. Families have access to a wide range of sporting opportunities, recreational activities, and quality schooling. Weekends are for swimming, playing sport, shopping, and dining out. Take a picnic to a national park, go for a relaxing bushwalk or get to know our unique wildlife.
Our multicultural society welcomes people from all over the world. On your travels you can experience and learn about Aboriginal culture and enjoy local and international cuisine.
Our schools and universities provide a quality education. Housing comes in all sizes, from large houses with a backyard and swimming pool, to brand-new inner-city apartments.
Over the years, we have welcomed many people from all over the world to work for SMHS and live in our beautiful state. Talk to them and they'll give you a range of reasons why they love their new home so much.
WA really has something to offer everybody, from the easy going and secure lifestyle, to the warm weather and sandy white beaches, the quality and affordable education options, easy accessibility supported by a range of transport options, right through to the adventures that can be experienced through caravanning and camping under the starry skies.
Perth metropolitan area
Perth is home to approximately 1.9 million people. It's easy to get around the city by bus, train or on foot. The metropolitan area is linked by efficient freeways, highways, railway lines and cycle paths. The city is set on the beautiful Swan River looking up to the Kings Park Botanic Gardens. Beaches stretch for miles to the north and south.
Fiona Stanley Hospital (external site), located in Murdoch, is a major health precinct 18 km south of Perth city. It provides access to a range of housing and transport options, as well as universities and a range of public and private schools.
Fremantle
The port city of Fremantle is 18 km southwest of the capital and offers a unique culture of historic and modern buildings, along with a unique multicultural vibe that was internationally discovered when the port city hosted the America's Cup yacht race back in 1987.
Fremantle Hospital (external site) is located on the fringe of the city with easy access to a huge range of eating and entertainment options. The city stretches from the shores of the Indian Ocean to the active fishing boat harbour and provides a rich and vibrant visual history to the establishment of Perth and Fremantle.
Peel region
Located just south of the Perth metropolitan area on the Peel Inlet, this small region features canals, rivers and the Indian Ocean, as well as a variety of wineries and forest settings.
Mandurah is the major population centre of this region and is connected to Perth by train and freeway access. Other important towns are Pinjarra and Waroona. Sections of the famous Bibbulmun Track walking trail pass through the region.
The Peel region includes two significant hospitals – Rockingham General Hospital (external site) and Peel Health campus (external site) – that provide a diverse range of services, supported by other health services including Murray District Hospital (external site) and a range of community centres throughout the region.
Find out more
We welcome enquiries from people outside of WA – whether it be from other parts of the country or overseas. If you are an international job seeker, find information about visa and registration requirements (external site).
We know you'll love living in WA, and working with SMHS will provide you the opportunity to make a real difference in people's lives.