Home is where the heart is for 90-year-old-Dallas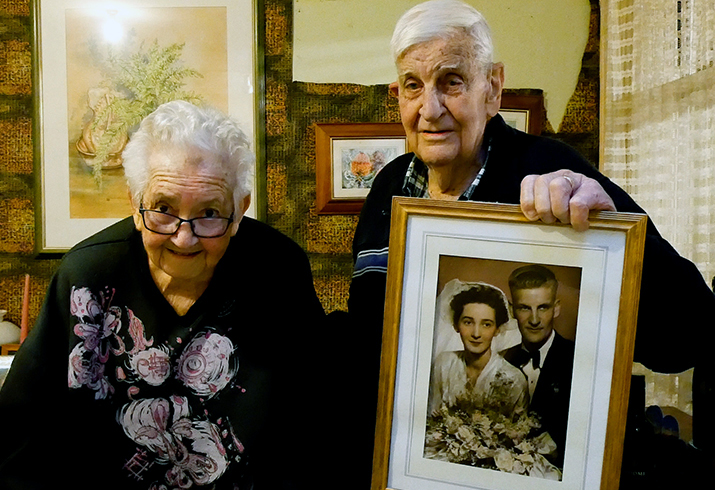 Dallas and Bob Sharpe in their home.
Married for almost seven decades, Bob continues to be a pillar of support for his wife Isla (Dallas) Sharpe.
Both aged 90, they have been able to stay together in the comfort of their own home while Dallas recovered from a recent fall.
Thanks to South Metropolitan Health Service (SMHS) Rehabilitation in the Home (RITH), which provides short-term allied health therapy at home, Dallas was able to spend most of her time recovering in their eastern suburbs home with Bob by her side.
After her fall in April, Bob called an ambulance to take Dallas to Armadale Hospital Emergency Department. Fortunately, Dallas had osteo-arthritis in her knee but no fractures.
Being under the care of the SMHS RITH service meant Dallas could be discharged into the home care service.
Dallas said the service provided her with equipment and taught her skills to prevent further falls and allow more independence, relieving demands on her husband Bob.
"The RITH physiotherapist taught me exercises to assist me getting in and out of bed as well as on and off the commode independently. They also arranged a zimmer frame so I could walk short distances safely indoors and access the toilet," Dallas said.
"The occupational therapist also equipped my home with rails so I could get down the back steps to go outside."
SMHS RITH Coordinator and Senior Physiotherapist Alison Hamersley said the multidisciplinary teams provide an early-supported discharge service to patients across the Perth metropolitan region and can manage a high level of acuity for elderly patients.
"Treating patients in their own, familiar environment has many benefits, just like in Dallas' case" Alison said.
"Studies show there is less risk of infections and falls when being cared for in your home environment and our service also reduces hospital re-admissions, which eases pressure on the system."

In addition to the allied health therapy and equipment to ensure Dallas was more independent and safe from falls in her home, the RITH social worker arranged ongoing services for personal care to ensure Dallas was supported into the future.
Dallas remains living at home and is able to walk short distances with the zimmer frame as well as carry out some of the everyday tasks without requiring Bob's help.
With the addition of the newly installed steps, Dallas is enjoying sitting outside with Bob and listening to the birds.
"We're both very grateful to the hospital and the RITH service for all they have done for us," Dallas said.
Read more about the RITH service.
Watch Dallas talk about her experiences
Keep up to date with our news and achievements