Colonoscopy app a proven success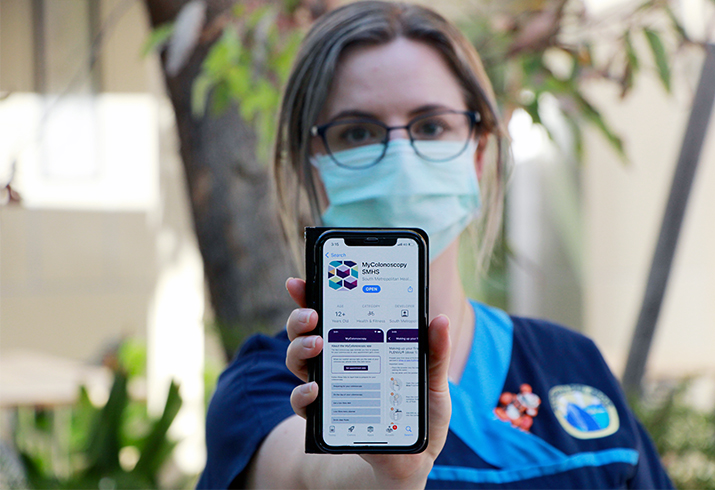 Following a very successful trial, the innovative MyColonoscopy SMHS app has now been rolled out as standard practice for our Rockingham General Hospital (RGH) colonoscopy patients.
Conceptualised and spearheaded by Clinical Nurse Clair McKeown with the support of the South Metropolitan Health Service (SMHS) Kaartdijin Innovation Centre, the goal was to make the preparation process leading up to a colonoscopy simple and easy to follow.
It achieves this by enabling patients to register their appointment date so they can receive notifications, reminders and information leading up to their procedure to help them correctly prepare.
With the use of MyColonoscopy SMHS, there was a significant reduction in colonoscopy cancellations and delays due to incorrect preparation by patients. It also garnered excellent feedback from patients, who said they found it easy to use.
"I have slight memory problems and the reminders to stop eating solid food and prompting me to drink the medicine were very helpful," one user said.
"The medicine tastes awful, so I also tried the tips in the app to make it more palatable and they worked a treat."
Clinical Nurse Clair McKeown said despite initial concerns the app would be difficult to use for some cohorts, it has actually been most popular among older patients.
"Our most common cohort to use the app have been those aged from 60 to 80 years old," Clair said.
"It is specifically designed to be really simple and easy to use for all ages and the feedback has been overwhelmingly positive from both patients and staff.
"The next goal is to expand the app to our patients at other SMHS sites so our whole community can enjoy the benefits."
Download the app via Google Play (external site) or the Apple Store (external site).
Keep up to date with our news and achievements