Did you know men can get breast cancer too?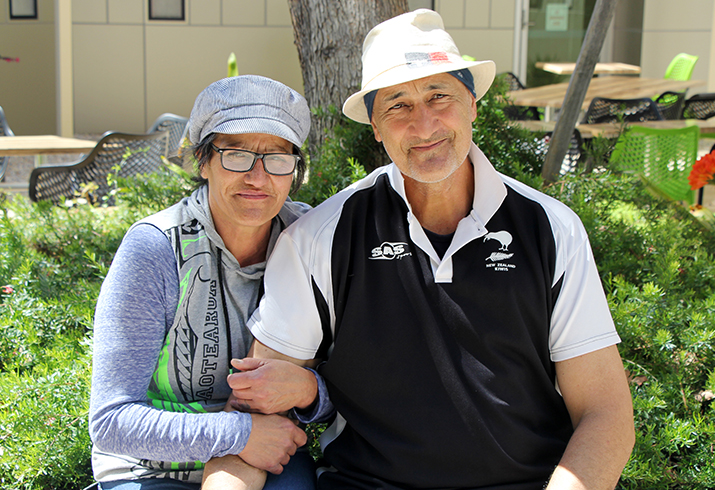 Patrick with wife Sam
In early 2021, 55-year old construction worker Patrick Gallagher noticed a small lump which was sitting under his nipple on his left side.
"I initially thought it was a bruise from bumping into something, but over a few months it started getting bigger, more swollen and had moved up to cover the whole left side of my chest," Patrick said.
"One day it was giving me grief, it was tight and swollen, so I finally decided to go to the emergency department where they did some tests."
Six months after the lump first appeared, Patrick and his wife Sam learned he had cancer.
"It was depressing to find out I had cancer, but when I learned it was actually breast cancer a few weeks later, I was in shock and didn't tell Sam for two months while I tried to process it," Patrick said.
"I didn't want to tell her as I thought the worst."
Since learning the news, Patrick, Sam, their friends and family have been surprised because they were not aware that men could develop breast cancer.
While breast cancer is uncommon in men, there are some common risk factors that increase a man's chance of developing breast cancer such as a strong family history of female or male breast cancer, or ovarian cancer on either side of the family.
Another risk factor is getting older, with 90 per cent of men diagnosed with breast cancer aged 50 and over.
In Patrick's case he met some of these risk factors; he was aged over 50 and has a strong family history of breast cancer – something he found out following his diagnosis, with two female relatives having had the disease.
Patrick has undergone six months of chemotherapy, initially at the Fiona Stanley Hospital Cancer Centre and then at Rockingham General Hospital (RGH). He had surgery at Fremantle Hospital in April 2022 to remove the breast tissue and some cancerous lymph nodes, followed by another six months of more aggressive chemotherapy to target the remaining cancer at RGH.
Patrick said the hardest thing was accepting that the treatment might not work but he is remaining positive.
Patrick's RGH oncologist Dr Sanjana Kondola said he is responding as well as possible to treatment and has been a lovely stoic patient who has taken every challenge head on.
"I am proud of him and his journey," Dr Kondola said.
Following the completion of his final round of chemotherapy next month, Patrick will complete five weeks of radiation and then be put on a maintenance program if the majority of the cancer is gone.
"Whatever my outcome next month, we will take it head on, we don't know any other way," Patrick said.
"All the hospitals I have been to have been fantastic, the teams are great, and the communication has been amazing."
This Breast Cancer Awareness month, Patrick wants to spread awareness that men can get breast cancer too.
"If you find a lump, go and see a doctor early and ask the questions, don't leave it as long as I did," Patrick said.
Although breast cancer in men accounts for less than one per cent of all breast cancers, it is just as important for men as for women to see a doctor without delay if there is a change in their chest. Early detection and treatment are the best way to survive the disease.
Keep up to date with our news and achievements