Doctor wants young audiences to see that they can become doctors too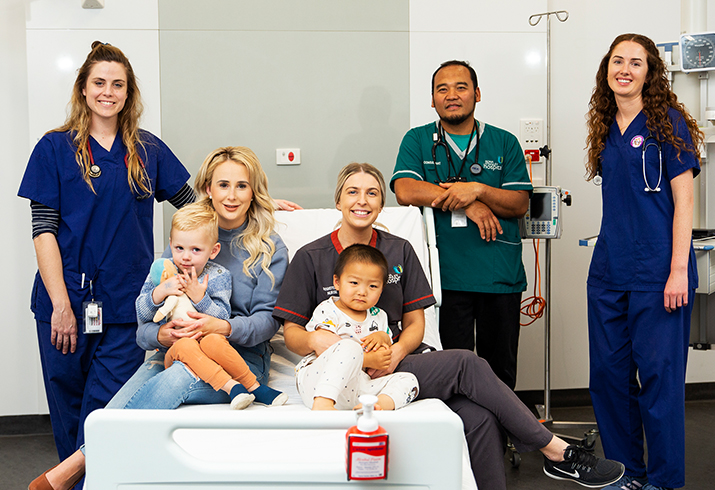 Left to right: Dr Tara, mum Jessica, Seth, Nurse Nicole, Clay, Dr Mohd, Dr Deirdre
Appearing in its eighth and final episode, which airs this Friday 5 August at 7:30pm, Registrar Dr Tara Brown hopes Children's Hospital will show young people what it is like working in healthcare and encourage them to one day consider it as a career path.
Tara, thank you for taking time out of your busy day to chat with me. What does a day on the job look like for you?
There's no such thing as an 'average' day for me – it's so variable.
My job involves juggling multiple patients, managing referrals to specialty teams, performing procedures and ordering tests. I also support junior doctors by reviewing their patients and assisting them when they need it. Overnight, I am often the senior doctor in the emergency department, so I manage bed flow, lead resuscitations, take referrals, and provide advice for smaller hospitals.
I love that every shift is different and I have no idea what I'm going to be doing. Anything could come through the door and to me that's a pretty thrilling idea.
How did you find the experience filming Children's Hospital?
I really enjoyed it! The crew were so friendly and while I felt a little awkward in front of the camera at times, it never got in the way of me doing my job.
The main reason I wanted to be a part of Children's Hospital is to help entice young people, particularly girls, towards healthcare as a career path. As a kid I used to watch medical shows similar to Children's Hospital and I saw all these incredible women on TV working as emergency doctors, surgeons and physicians. I thought to myself "if they can do it, why can't I?"
I love the idea of being able to pay that forward for today's young girls through Children's Hospital.
You have had quite a career path! Tell me about that.
I have actually been working in the industry for over fifteen years. I started as a medical receptionist, went to the aged care sector, became an assistant nurse, studied at university to be a registered nurse and now I'm a doctor. Further to that, I was working at Fiona Stanley Hospital (FSH) when Children's Hospital filmed but am now based at Rockingham General Hospital (RGH).
I have been absolutely blessed at both FSH and RGH. The EDs at both hospitals are run by remarkable women who are intent on supporting working mothers, eliminating bullying and sexism in the workplace, and encouraging work-life balance.
If you could give one piece of advice to young people considering a career in healthcare, what would it be?
Firstly, Year 12 isn't everything. I actually left school in Year 11 and entered university through another pathway, even beginning on the same day as my peers from high school but without having experienced the enormous amount of stress and pressure my friends did in Year 12. There are lots of alternate pathways to careers, even medicine – ATAR is not your only option.
Second, when you do go to university, I recommend enrolling into an undergraduate degree and working in an area related to medicine. My field was nursing and I had friends studying pharmacy, physiotherapy and other healthcare disciplines. We found moving into our postgraduate degree in medicine to be a lot easier than some of our peers.
Catch Dr Tara on episode eight, along with ten-year-old Olivia who gets knocked over and injures her back during an acrobatic cheerleading routine, a school boy has a nasty gash on his head after being hit by a flying lunchbox and a child who got cut by a dirty fishing knife.
You can also catch up and watch the all eight episodes anytime on 9Now.
Keep up to date with our news and achievements